<- Go Back
Zeus³ Software Update

Following on from the release of 18.3 software for the Zeus³ MFD series, we have identified a possible reboot issue which could happen at random.
Working with our internal SQA Teams, we have identified and solved this issue. A user update to the current software version (18.3-61.1.157) will resolve any in field problems.
Any Zeus³ MFD should be updated to the latest version, which is available to download below.
B&G are pleased to announce a software patch for the Zeus and Vulcan range of multifunction displays following the release of 18.3 in January. This new release incorporates various improvements and fixes which were identified by our internal SQA teams and customer feedback since the release.
Improvements and Fixes
· WiFi-1 Module firmware
o The B&G 18.3 software contained a firmware update for the WiFi-1 module which under certain conditions could cause the module to stop responding. This has been resolved and the latest patch checks the external WiFi-1 module before carrying out any updates to see if update is required.
· "No Radar" message
o In limited situations a connected Radar would report "No Radar" upon power up leaving the radar inoperable. This has been resolved.
Note: Any existing WIFI-1 module which is unresponsive, please contact your local Navico Service team.
The latest software version is available to download from this page or direct from an MFD connected to the internet.
B&G are pleased to announce the release of the latest update for the Zeus3 Series. This new release incorporates several new features and various improvements and fixes.
New features:
C-Map Embark Sync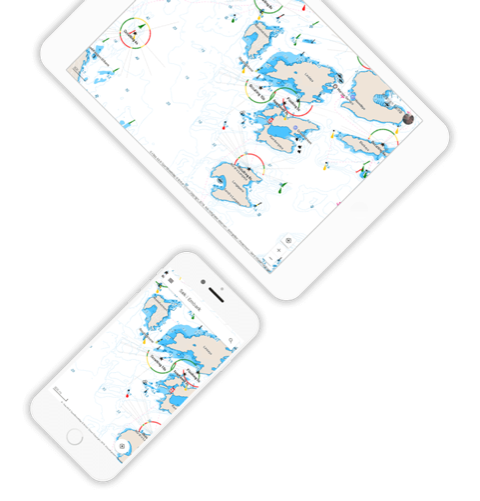 It is now possible for MFDs to synchronise Waypoints, Routes and Tracks with the C-Map Embark passage planner app available on iOS and Android. This allows points of interest along with pre-prepared routes to be transferred to your MFD from the comfort of home.
Dual Mode WiFi
It is now possible for compatible MFDs with built-in WiFi to simultaneously connect to the Internet and your mobile device. This allows Navico's Link app to be used while the MFD is connected to the Internet.
Menu and Tool Icon Changes
The Chart Menu has changed to a simpler layout to make it easier to find the desired setting. Along with the change to the Chart Menu, the ForwardScan menu has also been changed.
In addition to the Menu Changes, the "Files" tool user system has been renamed to "Storage" allowing direct access to Waypoints, Sonar Uploads and Transfers.
Improvements
* Added support for the new NMEA2000® MOB PGN
- No change to how MOB feature operates today, but will now trigger with a range of external devices using NMEA2000®
* New progress bar added to show progress when calculating a route with Navionics Dock-2-Dock Auto-Routing feature.
Fixes
* Fuel Remaining source is correctly stored during power cycles
* Fix for some missing tide stations with Navionics charts
* Instrument panel not working when system language is set to Greek
Download the Addendum to the User Manual to find out more about the new features
B&G are pleased to announce the release of the latest update for the Zeus3 Series
Key features:
New Software Naming Convention
Previously software RTM (release to market) version numbers were device specific e.g. a Vulcan 7 could be have a version number of 4.0 while a Zeus² could have a version number of 7.0 even though the software is from the same feature stream This causes confusion as to what products have what features.
• From now on, all the software from the same feature stream will have the same version number irrespective of model
• The new version number is made of the Year and the sequential release number in that year. In this case for this version,18.2 means that it is the second release for 2018.
• Update file names will have the new Version number


Display Text Message

Compatible MFDs that have built in Bluetooth can now pair with a mobile phone and allow text messages to be displayed on the MFD.
Depending on the type of phone, other functionality may be available:

Fixes and Improvements
Improvements
Added support for Fusion Radios via Ethernet communications
An option is now available for a user to select when they would like to receive the next notification for software updates
Bugs Fixed
Phantom Loran position can be viewed in the instrument panel
Fix for RMC sentence missing time stamp
Radar overlay transparency control not working with Insight charts
Missing voltage setting in Auto pilot setup
B&G are pleased to announce the release of a new software update which includes new features for Zeus3, Zeus2 and Vulcan product ranges.
These exciting new features include:
Advanced WindPlot (Zeus series products only)
Device Registration
C-MAP Navigation Palette
Autorouting/Easy Routing (now available in USA)
WindPlot enhancement (Zeus series only)
WindPlot is a special type of Time Plot, specifically designed to help understand recent changes in wind speed and direction. The changes to WindPlot are aimed at providing users with a clearer view of wind trends, easier comparison of True Wind Speed (TWS) to True Wind Direction (TWD) and better display in small panels for use alongside charts, RacePanel or SailSteer features.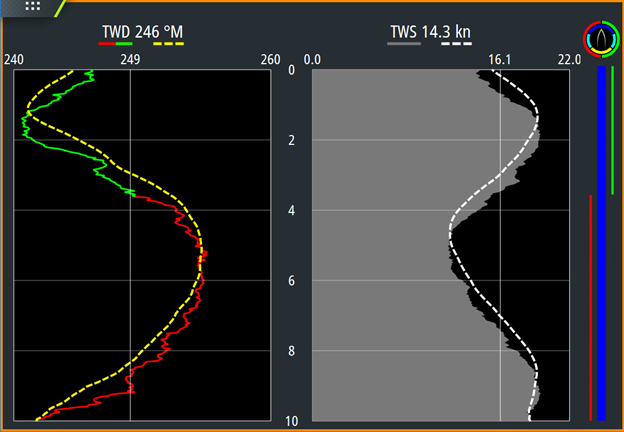 An (optional) "tack bar" feature has been added that clearly identifies point of sail (pre-start, upwind, reaching, downwind) along with the tack of the boat. Dual Mode view can also colour code TWD for port/starboard tack.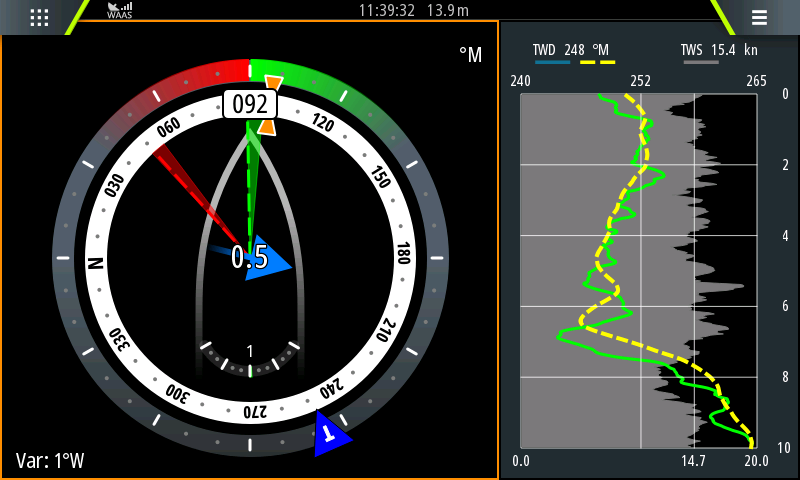 WindPlot Dual Mode view. Showing tack colour coding and Tack bar (right) feature. Data values are logged and provided to the user as average values per tack, to aid awareness and calibration.
 Device Registration
It is now very simple for the user to register their device with Navico.  They are prompted to do so at startup.  It is also possible by selecting the register option in the System settings dialog. Registration can be done:
From the device when connected to the internet
From a smart device with internet access
 C-MAP Navigation Palette
We have made enhancements to the C-MAP chart presentation, with the introduction of a new palette that closely matches several common hydrographic office presentations.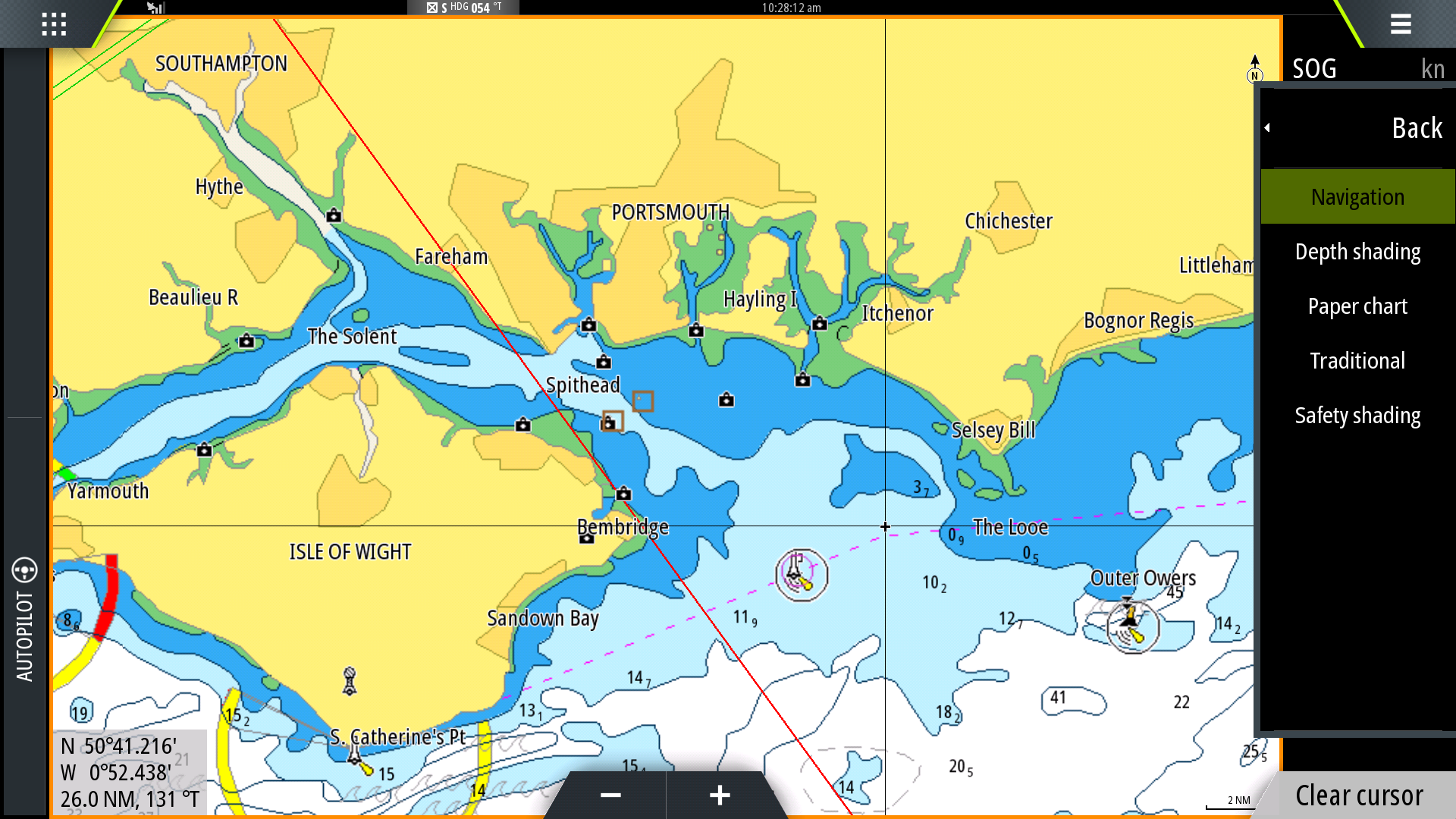 AutoRouting & Easy routing
Navionics' Dock-to-Dock AutoRouting and C-MAP's Easy Routing features are now available for use in US territorial waters. Simply select your start and end waypoints and the system will calculate the quickest route based on your boat's size and draft, avoiding hazards, shoals and dangers (compatible C-Map or Navionics chart card required)
Improvements
The ability to adjust the frequency of the software update notification dialogue box
Calibration options have been aligned to match the Instrument Options, i.e. access through Calibration under Network Settings. (image below goes with this line)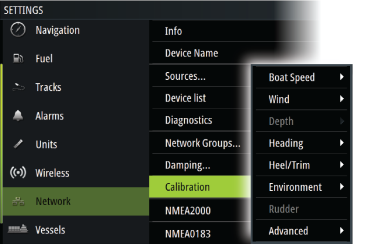 Fixes
Magnetic Variation issue on the Radar PPI screen when using the Compass Rose
AIS VDO / VDM sentences not been sent correctly over Wi-Fi to external Apps.
Navionics® Sonar chart live slow down
B&G are pleased to announce new software for the Zeus³ MFDs – Software Update range of multifunction displays. This new release incorporates several improvements and fixes.Improvements
• Performance increased and optimizations - this release contains several performance enhancements that can be seen in a smoother user experience compared to previous versions especially around chart redraw speeds and moving between pages.Fixes
• An issue has been found and resolved with the internal Wi-Fi that could lead to intermittent connections when connected to a Wi-Fi hot spot.
• Tide Station search not working when system language was set to Non-English (e.g. French)Note:
Users that use Navionics SonarChart Live feature may experience the chart feature slow down over time due to extended logging. We are working hard with the chart manufacturer to resolve this.
The latest software version is available to download from the B&G website.
[/vc_column_text]
B&G are pleased to announce new software for the B&G Zeus³ range of multifunction displays. This new release incorporates some great new features and improvements including:
New Control bar User Interface
Port / Starboard Waypoint Rounding Indication
Coloured Tracks based on data
HeatMap overlay on the chart (Water Temperature)
New Feature Unlock. Enhanced features available from the GoFree shop
New Control Bar
There is a new control bar located down the left hand side of the screen. The control bar will show controls for the following if the relevant products are in the system:
Autopilot: Autopilot controls. Visible if an Autopilot computer is connected
Audio: Audio server controls. Visible if there is a compatible audio server on the network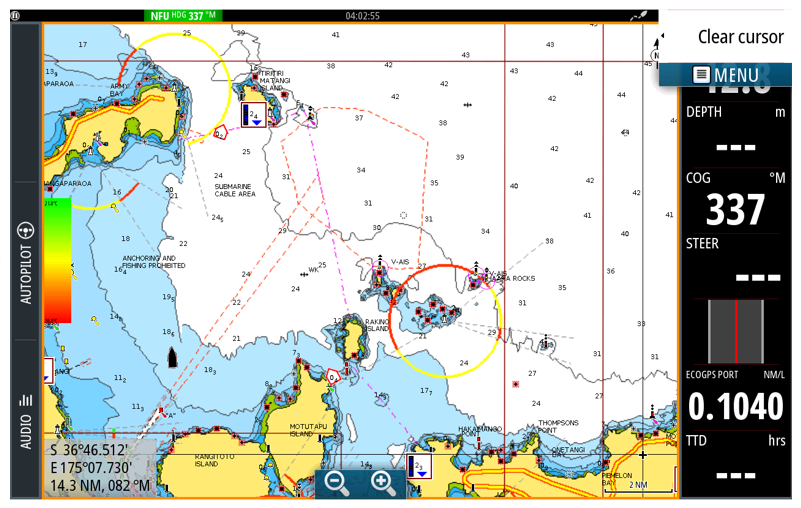 Autopilot control bar
Autopilot controls are now accessed from the new control bar. The autopilot control is visible if a B&G autopilot computer is on the NMEA 2000 network.
Selecting the autopilot control button will expand to reveal the autopilot controller, showing the active mode, heading, rudder and various steering information depending on active autopilot mode. The autopilot indicator remains on the status bar.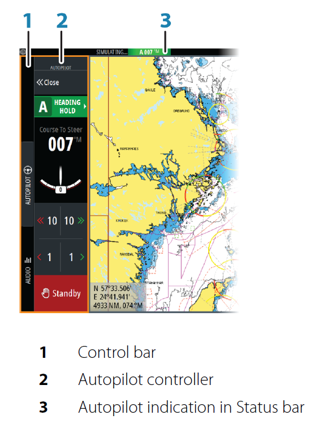 Audio control bar
The audio control bar is available when compatible, active audio server is on the NMEA 2000 network.
Select Audio in the control bar to open the audio controller. Select the Audio source button and then select the audio source.
Note: The number of sources depends on the active audio server
Mark Rounding Indicators
To enable quick and easy identification of mark rounding directions when racing the latest update allows users to set a specific course as a race, which then automatically applies mark rounding directions based on the relative angle between legs of the course.  These angles can be edited by the user to match those provided by the race committee, if different.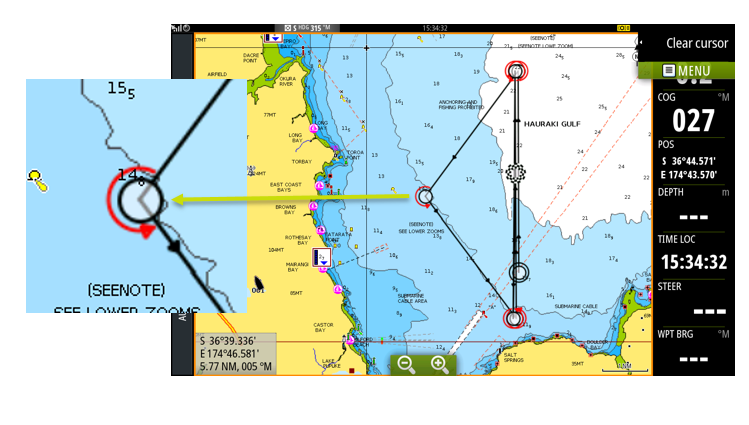 Colour Tracks
The system can now dynamically change the colour of a track based on a source of data.
Track colour can be based on the following data sources (if available):-
SOG (Boat Speed over ground)
STW (Boat speed though water)
Wind Speed (True wind speed)
Wind Speed Apparent (Apparent Wind Speed)
VMG (Velocity Made Good)
Polar Performance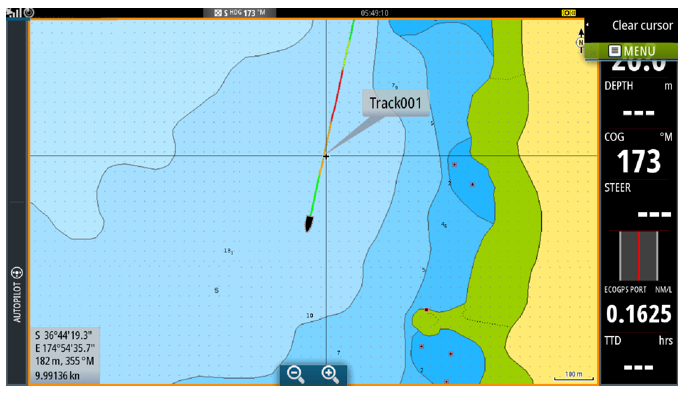 The colour scale will use red to show the lowest value and green for the highest with the mean value shown in yellow.
Enable Colour Tracks using the option in the side menu under Chart Options. Once turned on the unit provides the ability to set the data parameters.
Heat Map
Heat map is a new Chart Overlay that shows a history of the sea surface temperature where the boat has been. The Sea temperature history is shown as a coloured line where the boat has been. A sea temperature sensor is required and set as a source of Sea Temp in the Network settings. The colours relate to a key that is visible when the overlay is active. The keys values will automatically adjust based on the current temperature reading. The pallet of the Heat Map and key can be adjusted.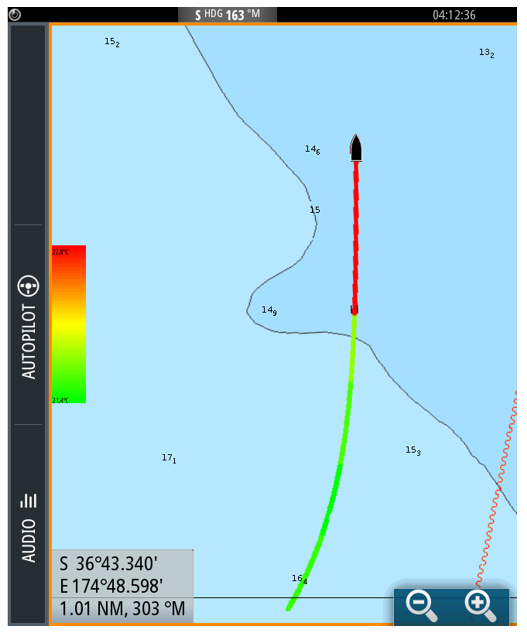 New Feature Unlock
Additional functionality and features can now be purchased and can be unlocked on the Multifunction Display using the new Feature Unlock menu item under Settings. (This is only visible when a compatible device is connected)
Improvements
Changed default C-MAP depth palette to "Depth Shading"
Screen shot files are now named with Date and Time e.g Screenshot_2017-07-06_05.01.12.png.
Touch calibration logs are now sent with service assistant reports
Bug Fixes
Rotary knob push to toggle between control of settings such as Gain on Sonar and Radar has been fixed
East/West identifier missing from WPTs when cord sys is set to Degrees / Minutes / Seconds
Dock to Dock out side of the USA: A fix has been implemented for the feature not working on some units with certain Navionics charts in Europe.
Dock to Dock and Autorouting out side of the USA: This feature is now Geo-fenced on all SKU's and will not to work within U.S. Waters
High voltage alarm: Some customers have reported High Voltage alarms even though the vessels voltage is normal.
A power control fix has been implemented to work with Fusion MS-BB300 radios.
This release incorporates new features and improvements including:
Improved sonar history panning on large screen devices
change in water temp calibration isn't displayed after power cycle
Improved performance on maximized panels
Improve weather animation behavior
Improve tripIntel rendering time
Chart is not created on start up anymore
New Navionics Library to correct the following bugs:

Wrong message for cards to be activated
Advanced features not available for chip activated via plotter Sync
Tiles disappeared after chip activation via plotter sync
No GPS Time available - Advanced Features Temporarily disabled for active chips
Sonar Charts not available after chip activation via plotter Sync
Impossibility to switch back to NauticalChart visualization
Sonar Charts contained in tiles are not visible on preloaded products containing only NauticalCharts
Navico multiple chips: wrong management if one chip has subscription expired or to be activated
| | |
| --- | --- |
| Version | 18.3 |
| Total Files | 1 |
| Last Updated | May 31, 2019 |
| File | Action |
| --- | --- |
| Zeus3-18.3-61.1.157-Standard-1.upd | Download |