<- Go Back
Vulcan 12 Software Update
B&G are pleased to announce the release of the latest update for the Vulcan 12. This new release incorporates several new features and various improvements and fixes.
New features:
Advanced WindPlot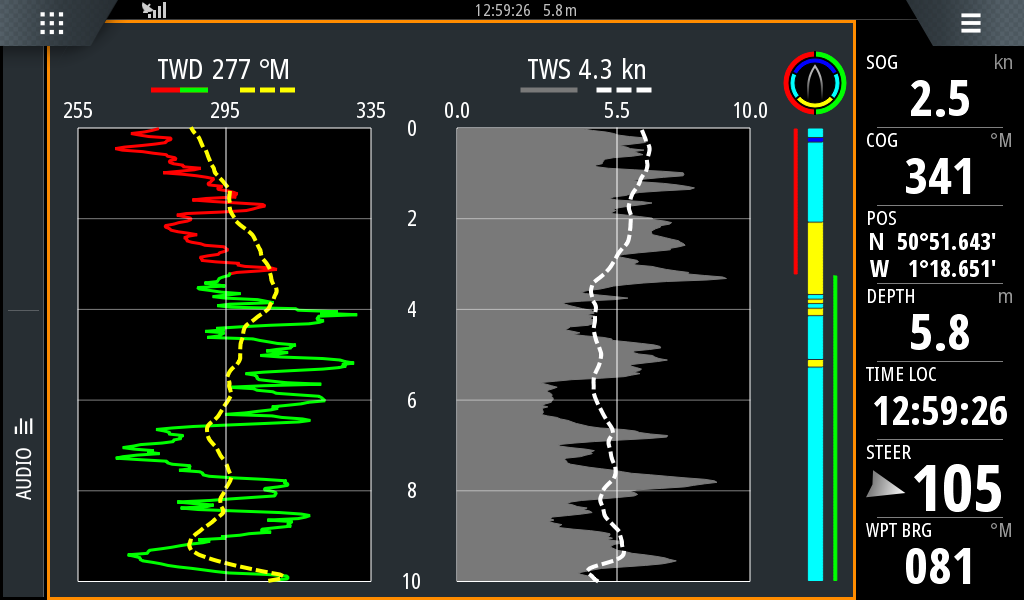 The Vulcan range of MFDs now support the Advanced Wind Plot which was previously only available on the Zeus range of MFDs.
WindPlot is a special type of Time Plot, specifically designed to help understand recent changes in wind speed and direction. The changes to WindPlot are aimed at providing users with a clearer view of wind trends, easier comparison of True Wind Speed (TWS) to True Wind Direction (TWD) and better display in small panels for use alongside charts, RacePanel or SailSteer features. Read Mark Chisnell's blog on using Advanced Windplot for hints and tips to help you get the best from the display. 
C-Map Embark Sync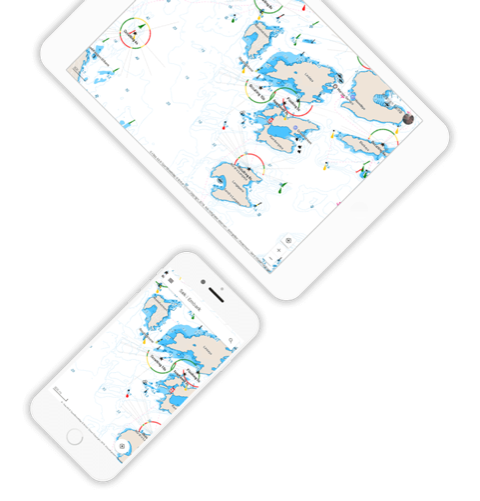 It is now possible for MFDs to synchronise Waypoints, Routes and Tracks with the C-Map Embark passage planner app available on iOS and Android. This allows points of interest along with pre-prepared routes to be transferred to your MFD from the comfort of home.
Dual Mode WiFi
It is now possible for compatible MFDs with built-in WiFi to simultaneously connect to the Internet and your mobile device. This allows Navico's Link app to be used while the MFD is connected to the Internet.
Menu and Tool Icon Changes
The Chart Menu has changed to a simpler layout to make it easier to find the desired setting. Along with the change to the Chart Menu, the ForwardScan menu has also been changed.
In addition to the Menu Changes, the "Files" tool user system has been renamed to "Storage" allowing direct access to Waypoints, Sonar Uploads and Transfers.
Improvements
* Added support for the new NMEA2000® MOB PGN
- No change to how MOB feature operates today, but will now trigger with a range of external devices using NMEA2000®
* New progress bar added to show progress when calculating a route with Navionics Dock-2-Dock Auto-Routing feature.
Fixes
* Fuel Remaining source is correctly stored during power cycles
* Fix for some missing tide stations with Navionics charts
* Instrument panel not working when system language is set to Greek
Download the Addendum to the User Manual to find out more about the new features
B&G are pleased to announce the release of the latest update for the Vulcan 12.
Key features:
New Software Naming Convention
Previously software RTM (release to market) version numbers were device specific e.g. a Vulcan 7 could be have a version number of 4.0 while a Zeus² could have a version number of 7.0 even though the software is from the same feature stream This causes confusion as to what products have what features.
• From now on, all the software from the same feature stream will have the same version number irrespective of model
• The new version number is made of the Year and the sequential release number in that year. In this case for this version,18.2 means that it is the second release for 2018.
• Update file names will have the new Version number


Display Text Message

Compatible MFDs that have built in Bluetooth can now pair with a mobile phone and allow text messages to be displayed on the MFD.
Depending on the type of phone, other functionality may be available:

Fixes and Improvements
Improvements
Added support for Fusion Radios via Ethernet communications
An option is now available for a user to select when they would like to receive the next notification for software updates
Bugs Fixed
Phantom Loran position can be viewed in the instrument panel
Fix for RMC sentence missing time stamp
Radar overlay transparency control not working with Insight charts
Missing voltage setting in Auto pilot setup
B&G are pleased to announce the release of a new software update which includes new features for the Vulcan 12.
These exciting new features include:
Device Registration
C-MAP Navigation Palette
Autorouting/Easy Routing (now available in USA)
Device Registration
It is now very simple for the user to register their device with Navico.  They are prompted to do so at startup.  It is also possible by selecting the register option in the System settings dialog. Registration can be done:
From the device when connected to the internet
From a smart device with internet access
 C-MAP Navigation Palette
We have made enhancements to the C-MAP chart presentation, with the introduction of a new palette that closely matches several common hydrographic office presentations.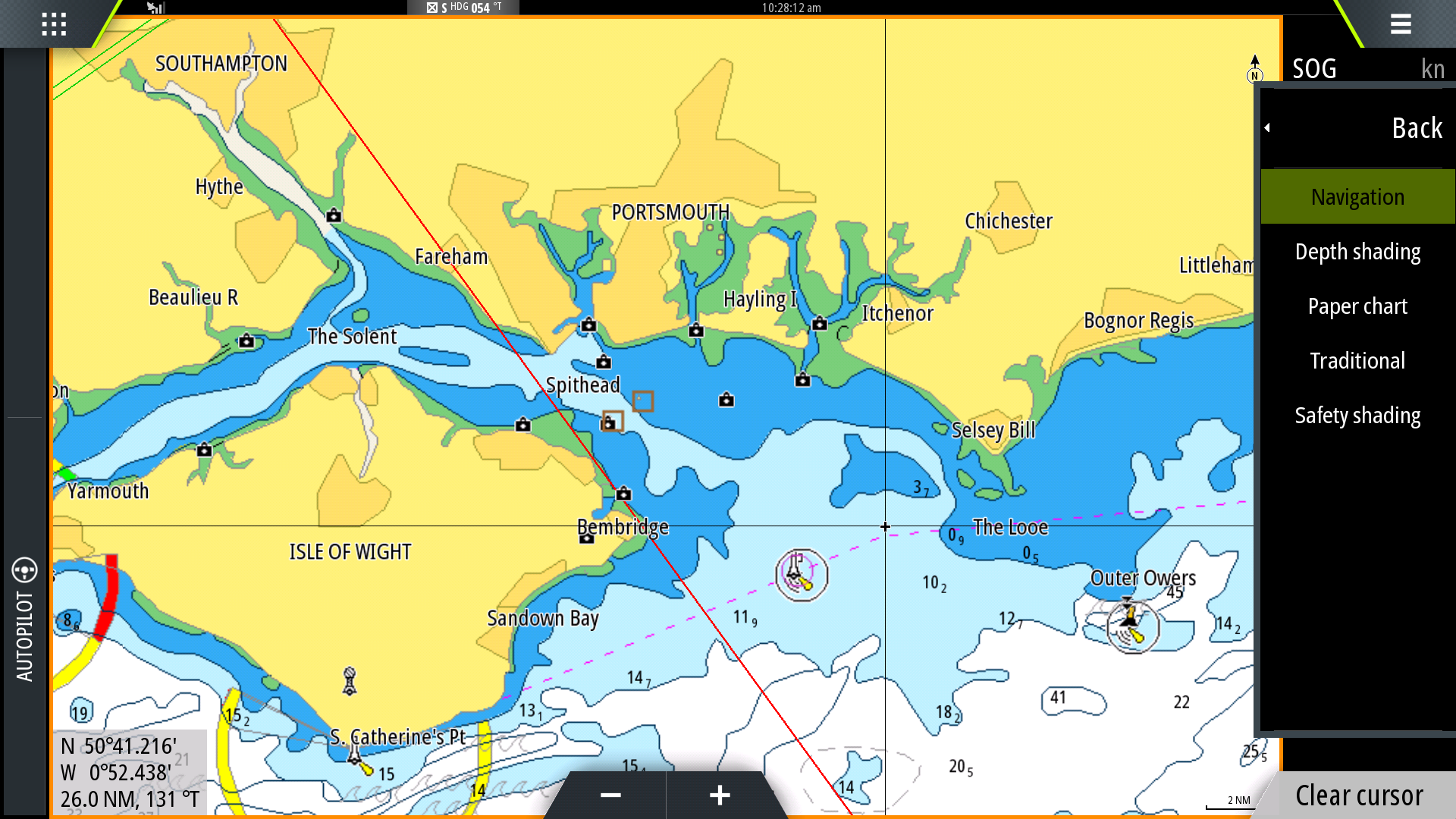 AutoRouting & Easy routing
Navionics' Dock-to-Dock AutoRouting and C-MAP's Easy Routing features are now available for use in US territorial waters. Simply select your start and end waypoints and the system will calculate the quickest route based on your boat's size and draft, avoiding hazards, shoals and dangers (compatible C-Map or Navionics chart card required)
Improvements
The ability to adjust the frequency of the software update notification dialogue box
Calibration options have been aligned to match the Instrument Options, i.e. access through Calibration under Network Settings. (image below goes with this line)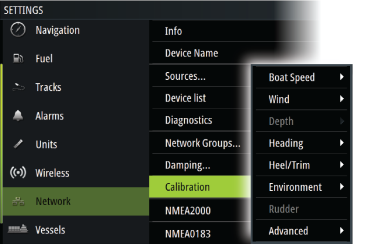 Fixes
Magnetic Variation issue on the Radar PPI screen when using the Compass Rose
AIS VDO / VDM sentences not been sent correctly over Wi-Fi to external Apps.
Navionics® Sonar chart live slow down
| | |
| --- | --- |
| Version | 18.2 |
| Total Files | 1 |
| Last Updated | January 31, 2019 |
| File | Action |
| --- | --- |
| Vulcan_R-18.3-61.1.133-Standard-1.upd | Download |